---
Welcome Introduction
We are an international team of 13 scientists funded by the International Space Science Institute and engaged in a project to study the dynamics of planetary magnetotails.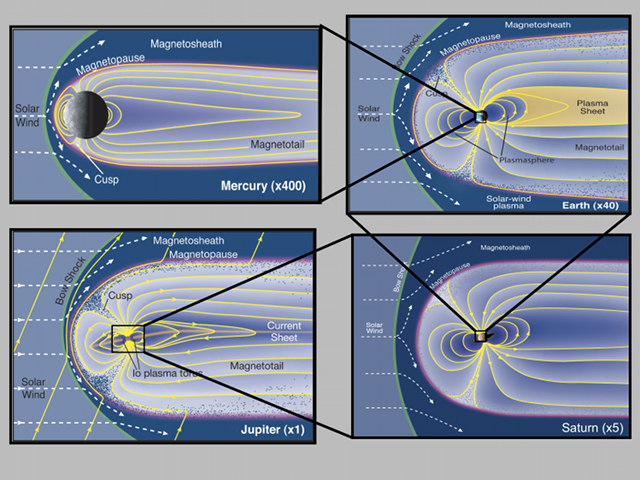 Please feel free to explore our site and read our proposal and contact the team coordinators Caitriona Jackman, Chris Arridge, Nicolas Andr&eacute, or the site webmaster.
Abstract
Spacecraft observations have established that all magnetised planets interact strongly with the solar wind and possess well-developed magnetic tails. We wish to study reconnection, convection, and charged particle acceleration in the magnetic tails of Mercury, Earth, Jupiter and Saturn. These fundamental physical processes are common to all these planetary environments and relate to a complex chain of events that ultimately release mass and energy in magnetised configurations. The great differences in solar wind conditions, planetary rotation rates, ionospheric conductivity, and physical dimensions from Mercury's small magnetosphere to the giant magnetospheres of Jupiter and Saturn, provide an outstanding opportunity to extend our understanding of the influence of these factors on these basic processes. We will draw together data analysis experts and global modellers to build up a full picture of small- and large-scale dynamics. We will make use of numerous data sets from MESSENGER, Geotail, Cluster, THEMIS, Galileo, New Horizons, Cassini, and the Hubble Space Telescope (HST) to name but a few, together with sophisticated simulation and modelling tools in order to probe in-situ and remotely the deep magnetotails of these planets.
Team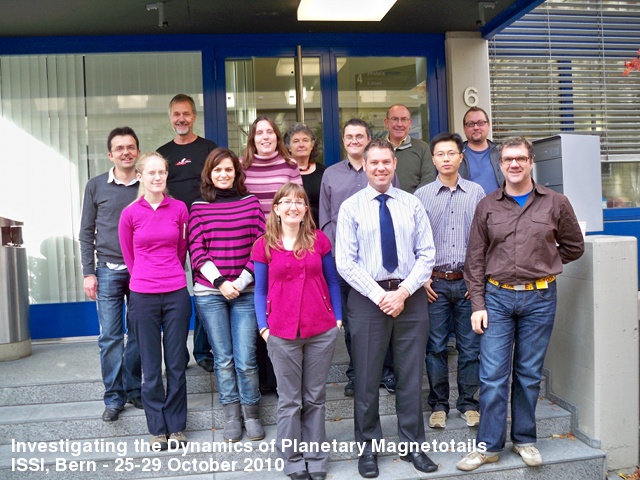 Core Team
| | | | |
| --- | --- | --- | --- |
| Team member | Institution | Country | Expertise |
| Caitriona Jackman | ICL | UK | Cassini MAG |
| Chris Arridge | MSSL/UCL | UK | Cassini MAG/CAPS |
| Nicolas Andre | CESR | France | Cassini MAPS |
| Fran Bagenal | LASP, U. Colorado | USA | Voyager PLS, Galileo IDS, Deep Space 1, New Horizons, Juno |
| Joachim Birn | LANL | USA | Global MHD Modelling |
| William Farrell | NASA/GSFC | USA | Voyager, Cassini RPWS, WIND, DSX |
| Mervyn Freeman | BAS | UK | SuperDARN, Substorm models |
| Xianzhe Jia | U. Michigan | USA | Cassini IDS, Global MHD Modelling |
| Steve Milan | U. Leicester | UK | SuperDARN, CUTLASS, KuaFu-B, Bepi-Columbo |
| Aikaterini Radioti | U. Liege | Belgium | HST, Cassini UVIS, Galileo EPD |
| James Slavin | NASA/GSFC | USA | MESSENGER, MMS, Bepi-Columbo, Cluster, WIND |
| Martin Volwerk | OEAW | Austria | Galileo MAG/Cluster FGM/THEMIS FGM |
ICL: Imperial College London, MSSL/UCL: Mullard Space Science Laboratory, University College London, CESR: Centre d'Etude Spatiale des Rayonnements, LASP/U. Boulder : Laboratory for Atmospheric and Space Physics, University of Colorado, IDS: Inter-disciplinary scientist, LANL: Los Alamos National Research Laboratory, NASA/GSFC: Goddard Space Flight Centre, BAS: British Antarctic Survey, U. Michigan: University of Michigan, U. Leicester: University of Leicester, U. Liege: University of Liege, OEAW: Osterreichische Akademie der Wissenschaften, U.Washington: University of Washington, UCLA: University of California Los Angeles.
Young Scientists
| | | | |
| --- | --- | --- | --- |
| Team member | Institution | Country | Expertise |
| Ariah Kidder | U. Washington | USA | Global numerical simulations |
| Marissa Vogt | UCLA | USA | Galileo MAG |
| Andrew Walsh | MSSL/UCL | UK | Cluster PEACE, CIS, FGM, IMAGE |
---