ISSI Team
Characterizing stellar and exoplanetary environments via observations and advanced modelling techniques
Project Coordinator/Proposer: Helmut Lammer
Space Research Institute, Austrian Academy of Sciences, Schmiedlstr. 6, A-8042, Graz, Austria
E-mail: helmut.lammer@oeaw.ac.at; Phone: 0043 316 4120 641; Fax: 0043 316 4120 690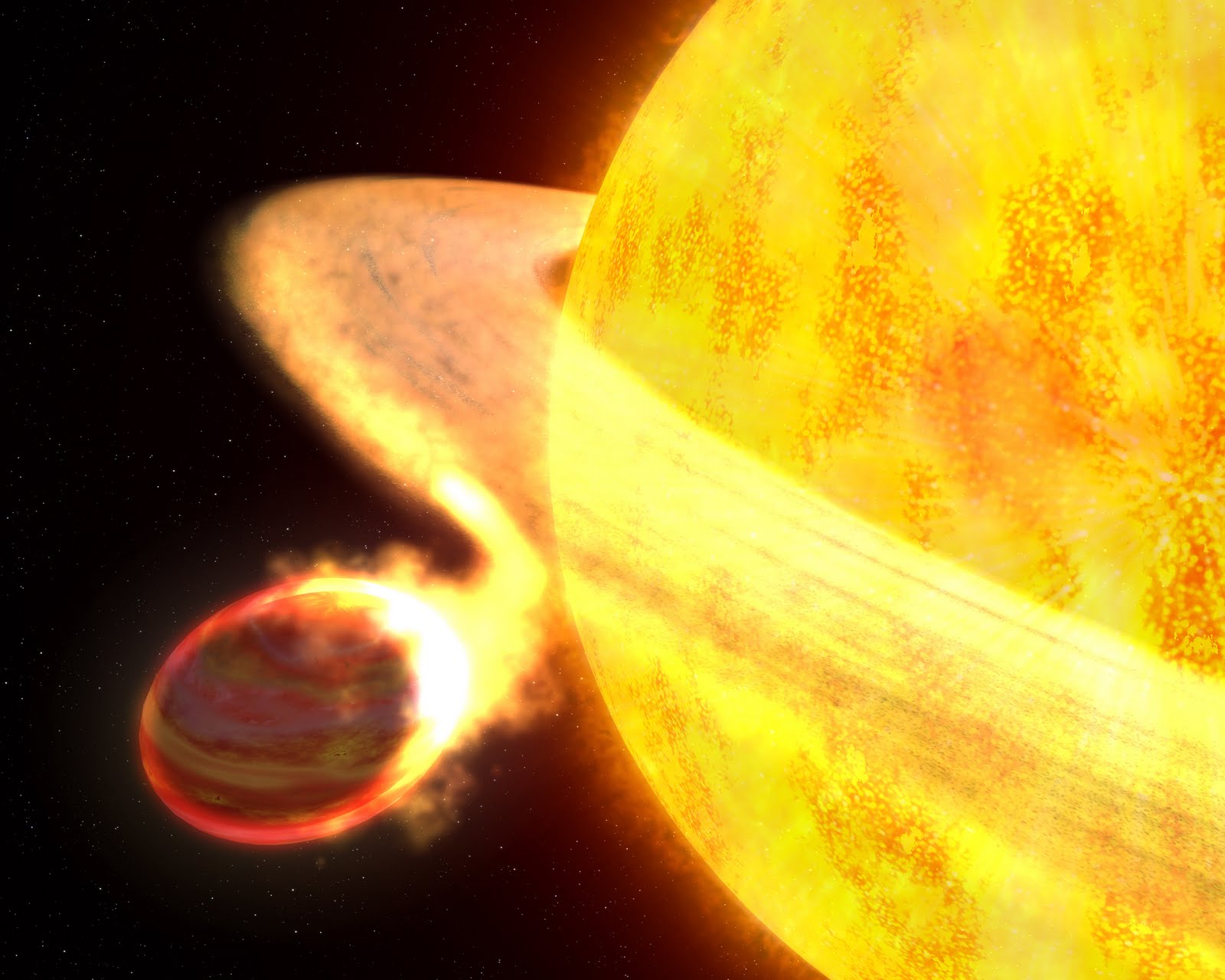 Image describtion: Artist's concept of the exoplanet WASP-12b. Credit: NASA/ESA/G. Bacon

List of published papers (PDF) >>
Recent observations with the Hubble (HST) and Spitzer Space Telescopes and theoretical studies of transiting exoplanets indicate that obtained spectra related to the upper atmospheres can be used to infer properties such as the thermosphere structure, the exosphere-magnetosphere-stellar plasma environment (e.g., superthermal ions, energetic neutral atoms ENAs), outflow of planetary gas including hydrogen atoms and heavy species such as carbon, oxygen and metals. The team members investigate the involved physical processes by applying advanced numerical modeling techniques (Monte Carlo, test-particle, gas dynamic, MHD, hydrodynamic, radiation transfer, empirical, and thermal balance models) together with astrophysical observations of the radiation environment of exoplanet host stars (UV, X-rays, IR, etc.). A main aim is to study the exoplanet upper atmosphere structure and the exoplanet and stellar plasma-magnetosphere environment. The team will use available observations from transit in IR (Spitzer) and UV (HST/STIS/COS) to constrain the boundary conditions of theoretical models. We plan also to use transit observations to characterize the stellar wind plasma flow (winds, CMEs, ICMEs) around the exoplanetary environments, its potential role to confine the expanding atmosphere, the production of super-thermal "hot" atoms and their related response to the interaction with the upper atmosphere-magnetosphere structure by ENA hydrogen cloud modeling. Furthermore team members will investigate if numerical and empirical models together with the available observations can enhance our understanding on magnetospheric dynamo theories of close-in gas giants.
List of team members:
Helmut Lammer
Space Research Institute
Austrian Academy of Sciences
Schmiedlstr. 6, A-8042 Graz
Austria
E-mail: helmut.lammer@oeaw.ac.at
Igor I. Alexeev
Lomonosov Moscow State University
Skobeltsyn Institute of Nuclear Physics
(MSU SINP) 119992, Moscow,
Russia
E-mail: alexeev@dec1.sinp.msu.ru
Lotfi Ben Jaffel
Institut Astrophysique de Paris (IAP)
CNRS-UPMC, 98 bis Blvd Arago
75014 Paris
France
E-mail: bjaffel@iap.fr
Luca Fossati
The Open University,
Institute for Physics and Astronomy
Walton Hall, Milton Keynes
UK
E-mail: l.fossati@open.ac.uk
Malcolm C. V. Fridlund
ESTEC/ESA
Astrophysics Division
P.O. Box 299
NL-2200AG Noordwijk
The Netherlands
E-mail: malcolm.fridlund@esa.int
Jean-Mathias Grießmeier
Laboratoire de Physique et
Chimie de l'Environment et de
l'Espace, CNRS, 3A,
Avenue de la Recherche Scientifique
45071 Orléans cedex 2
France
E-mail: jean-mathias.griessmeier@cnrs-orleans.fr
Manuel Güdel
Institute of Astronomy
Türkenschanzstr. 17
1180 Vienna
Austria
E-mail: manuel.guedel@univie.ac.at
Mats Holmström
Swedish Institute of Space Physics (IRF)
PO Box 812, SE-98128 Kiruna
Sweden
E-mail: matsh@irf.se
Maxim L. Khodachenko
Austrian Academy of Sciences
Space Research Institute
Schmiedlstr. 6, A-8042 Graz
Austria
E-mail: maxim.khodachenko@oeaw.ac.at
Kristina G. Kislyakova
N.I. Lobachevsky State University
University of Nizhnij Novgorod
23 Prospekt Gagarina, 603950 Nizhnij Novgorod
Russia
E-mail: kislyakova.kristina@gmail.com
Tommi Koskinen
Lunar and Planetary Laboratory University of Arizona
1629 E. University Blvd. Tucson,
AZ 8572-0092
USA
E-mail: tommi@lpl.arizona.edu
Jeffrey L. Linsky
JILA/University of Colorado at Boulder
440 UCB, Boulder Colorado 80309-0440
USA
E-mail: jlinsky@jila.colorado.edu
Ansgar Reiners
Institut für Astrophysik
Friedrich-Hund-Platz 1
37077 Göttingen
Germany
Valery I. Shematovich
Institute of Astronomy (INASAN)
Russian Academy of Sciences
48 Pyatnitskaya St., 119017 Moscow
Russia
E-mail: shematov@inasan.ru
Brian E. Wood
Naval Research Laboratory
Space Science Division
4555 Overlook Ave.
SW Washington, DC 20375
USA
E-mail: brian.wood@nrl.navy.mil