Following ISSI initiative, we met on Tuesday July 14th 2020 at 1551 CET. Below you can find the agenda and participants list, and a couple of photos.
Agenda
Welcome by ISSI
Short introduction (topic, participants), and group picture.
Alternative plan in case the September in person meeting in cancelled or not many of us can attend.
Ideas on material for a short video for ISSI anniversary.
Status of activities planned during the first meeting
Short (10-15 min) presentations.

S. England (ICON Observations of Atmospheric Waves in the Thermosphere)
A. Patra (Observations of 150-km echoes from Gadanki and EAR)
W. Longley (Arecibo plasma line power striations)
G. Lehmacher (150-km echoes: Jicamarca studies)

General discussions (and group picture).
Participants
Team members

Chau, Jorge (Germany, Chair)
England, Scott (USA)
Hysell, David (USA)
Lehmacher, Gerald (USA)
Liu, Huixin (Japan)
Milla, Marco (Peru)
Otsuka, Yuichi (Japan)
Patra, Amit (India)
Pedatella, Nick (USA)
Stolle, Claudia (Germany)

Young Scientists

Longley, William (USA)
Reyes, Pablo (USA)
Rojas, Enrique (USA, YS)

Team Guests

ISSI

Lehmann, Alexandra
Saliba, Saliba
von Steiger, Rudolf
Wambsganss, Joachim

Apologies

Kudeki, Erhan (USA)
Oppenheim, Meers (USA)
Vierinen, Juha (Norway)
Photos
Beginning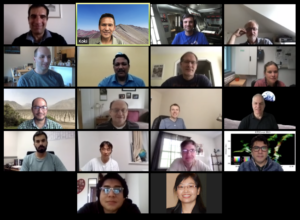 End